Tranny ImLive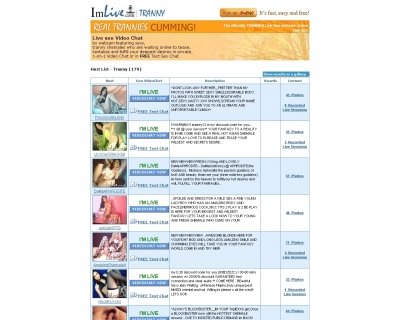 Site Review:
Reviewing a cam site is a new thing for me and I approached this as a first time visitor would. Bear with me because this was a first time experience for me. One I will probably repeat in the future may I please note. The first thing that met my eyes was the variety of highly appealing trannies.
Now normally I am provided with a username and a password but with a cam site since looking is free I was required to sign up. Good info for those of you who are also first timers to the cam and chat sites I think. Signup was simple just a username and good password and email. Nothing too complicated and I was instantly taken to the members area where online performers were indicated by numbers and specialties.
There were 214 shemales online as well as 20 shemale couples, when I signed in. Now let's take a look at them.
Well you can't fault the variety here. In no way shape or form. Those babes are all hot and though I don't admire their writing skills (the little blurbs beside their names usually mispelled with words like U and U r.) they were a joy to look upon.
My first impression was that this site doesn't work all that well with firefox. IE is definitely a winner with cam sites.
I went into a free chat with a foxy little shemale named EXOTICxKAORI I did mention they had a thing about spelling didn't I? Well this babe is hot. She is apparently new and new girls get lower rates but by my estimation she is an up and cummer. She was not only pretty but a joy to speak with and of course more than willing to go into private with me.
Now this is where it will cost you. The entire site until you choose a girl and I believe there is no way to avoid it there (too many appealing shemales).
However I needed to cruise around a bit more. I visited some 20 girls and was private with 2 of them. I will say that none of them were rude and none were bored. These were hot shemales and they are enjoying what they do. Each of these shemales has a specialty and you can search for them via many methods such as top rated, or features like hosts with discount clubs, penis size, bust size or even ethnicity. If you are looking for a shemale and something special believe me you will find it easily in their search. I highly recommend the search function or the sheer number of sexy shemales will leave you sitting their dumbfounded.
If you like shemale hardcore and action and tire of the solo shemale girls with their toys (are you crazy?) then be sure and make a little visit to the shemale couples. This is a show you control with shemales that are actually personable and sexy.
The one thing I did not like was the fact the free text chat did not feature a cam of the girl you only got that in the private sessions. However the photo display gave a pretty good idea of who you were chatting to so it wasn't a total loss.
Conclusion" Cams are not for everyone and take a bit of practice to navigate around however the girls at Tranny Imlive did indeed provide a unique and very sexy experience that can't be found in any other media.
Price Signup is free. Price per minute of video chat and showtime is variable depending on the popularity of the shemale. Time is purchased in blocks of $25.00 USD.