Shemale Punishers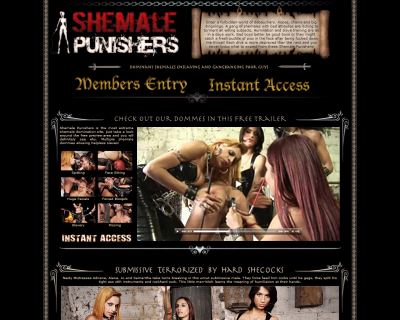 Site Review:
Shemale Revenge is one of those sites that come along ever so rarely and deserves a glowing review and a 10 star out of 10 review and 100 out of 100 rating. Well, that is what it deserves, but not what I can give it. As you can tell I was instantly taken by this shemale site. The tour was super. I mean it was flashy and eye catching, but loaded fast explicit but not too explicit and the shemales shown were lovely. Truly impressive shemales. The action was a lot of bondage, humiliation and BDSM play with the shemales always coming out on top of it.
Ok this was good. For those of you who love bondage and erotic pain you can understand my eagerness to get inside this tempting site. Shemale Domination is hot and it looked to me like this site had completely nailed it.
I could not wait to get in there and realy get to see this hot action for myself. When I entered my username and password for Shemale Revenge I was impressed. It was almost as if I had never left the tour. So simple and consistent is the design.
The members area is divided into just a few sections each update is called a chapter and there is a large every nice pic of the current update. There is also front and center a preview set of pictures featuring the next update.
I noticed right off the bat a link to a form where you could submit your favorite shemale domination fantasy and possbily see it included in a future update. Shemales Revenge just kept impressing me the deeper I got into.
I went straight to the chapter updates of course eager to see all this action for myself.
First I checked out the chapter photo section located right under the large picture representing the update. There were three photo sizes small medium and large the largest size was 1024×638 or so and truly high quality. There was even a hands free slideshow option available. The sets varied from 120 pictures in the smallest (this was rare) to 260 photos in the largest. It was a step by step accounting of each of the chapter's videos and these were photos not crapppy screenshots. You can tell I was impressed?
Movie time! I could hardly wait. First off was the fact that true HDV (high def videos) are pretty rare but Shemales Revenge does indeed have them. Each of their chapters are divided into 10 clips about 2.5 minutes long on average. Making one movie about 30 minutes in length. The quality and resolution of the HDV windows media vids was exceptional. It truly is the way to view these action packed videos in my opinion. They also offer mpeg and flv for slower connections. Though the quality is obviously not as good on these. The action was unreal and very intense. The spanking spitting biting and other humiliation and torments were real. There was even some verbal humiliation but unless you are from brazil, I doubt you would understand it. The tone of it all was very clear. What you see on the tour is only a little portion of what you get inside in the way of action and variety. However this is a brand new site. It can't possibly compete in terms of sheer numbers of movies with longer established sites. It does offer three tranny feeds though that look fairly good.
Conclusion:
This site really should not be reviewed yet. Why? Because it hasn't reached it's full potential. It is new and content is growing but at present there are only 14 chapters, with a new one being added each week. Granted the content is exceptional. The BDSM is real the humiliation and pleasure are very real and the shemales are lovely. Now everything in this site is perfect for the lover of real shemale dominants and bondage. There is no filler trash in here to make it look bigger. Just pure shemale domination done well and captured fully. Also offered are 15 bonus sites but none of them are shemale related.
In my opinion the true devotee of shemale domination is going to find this site of tremendous value and meeting a need few other sites can fill so well. I paid the membership and never regretted it one bit and look forward to remaining with them. This site can only grow in value unlike so many.
More Information:
Picture Sets: 14 sets offered in zip format for download.
Movies: 14 Full length movies filmed in HD (High Definition).
DRM Protection: No
Streaming Available: Yes
Video Formats Offered: WMV/HDV , WMV/DVD and MPEG
Download Limit: no
Price:
– $29.99/30 days – recurring
– $69.90/90 days – non-recurring
Bonus Offered: Access to 15 other sites and 3 bonus feeds. Wow, that is great!